Financial Resource Center
MoneyDesktop is a PFM – a personal financial management tool – that helps you budget and manage your finances. It allows you to import all of your accounts, across multiple institutions, so you can see your balances and transactions all in one place.
Import data from your primary institution and other institutions
Categorize loan payments and transfers
Save transaction and budget history
Track Interest Paid
Create Budgets
Set Alerts
and more!

It's FREE! Sign up at Online Banking

Your credit union cares about your financial success. That's why they partnered with GreenPath, a non-profit organization, to help you achieve your financial goals.
Through fees paid by your credit union, you can take advantage of free access to GreenPath's program. Caring, professional GreenPath advisors offer free, confidential financial counseling by phone --- without an appointment --- Monday through Saturday. We offer:
Free Financial Counseling - Get financial counseling and debt counseling without a sales pitch.  Our certified advisors will help you explore options for achieving your financial goals.  Everyone receives a customized action plan.
Debt Management Plans - If you are struggling to eliminate credit card debt, GreenPath may work with your creditors to develop a mutually agreeable payment plan.  The plan could stop collection calls, lower interest rates and help you save lots of money.
Housing Services- GreenPath's housing advisors are experts at assisting people with their housing needs.  We offer foreclosure prevention services, home buyer preparation assitance, and reverse mortgage counseling.
Student Loan Counseling - We'll help you look into student loan repayment options that can postpone or lower your payments.  Learn the pros and cons of each student loan repayment strategy so you can make an informed decision.
Credit Report Reviews - Learn how to better understand your credit report and how to manage your credit score.
The success of America's credit unions is built on service. And credit unions strive to help members reach their financial goals. Based on these two simple, yet powerful objectives, credit unions trust GreenPath to provide members with the very best financial counseling services available.
If you have questions or concerns about your finances, please visit http://www.greenpathref.com/ or call today at 1-877-337-3399.
Looking for a smarter way to manage money? The answer is simple! It's BudgetSmart, an easy-to-use software tool designed to help families manage money more effectively.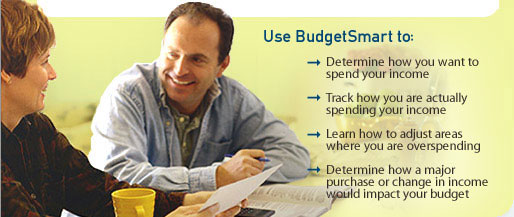 Click this link to visit the website: BudgetSmart

Money Cents E-Learning Portal is a financial education and counseling program designed exclusively for credit unions with members like you in mind. As a valued member and as a benefit of your credit union, you have free access to the Money Cents E-Learning Portal. You will receive free, impartial advice from experienced, professional counselors with the goal of helping you reach your financial goals. As a credit union member, you can use this site to:
View E-Learning Videos - We are pleased to present our unique set of informative videos, designed to offer helpful advice in an entertaining format. The videos target personal finance situations we all experience at different stages of our lives. Enjoy the videos at your convenience, watching all of the sections or choosing specific topics.
View an Article New Library - Learn about common financial matters like managing money, credit cards, and car loans.
Use E-Learning Tools - The exercises allow you to dive a little deeper into your personal financial life to access your own personal situation. You will be able to answer questions such as:

Is my identity at risk?
What is my money personality?
How do I use my resources?
How do I manage money?

Financial E-Library - You will find a collection of E-Books and manuals that provide you financial information.
Ask the Expert - GreenPath financial counselors are available to answer your money management questions.